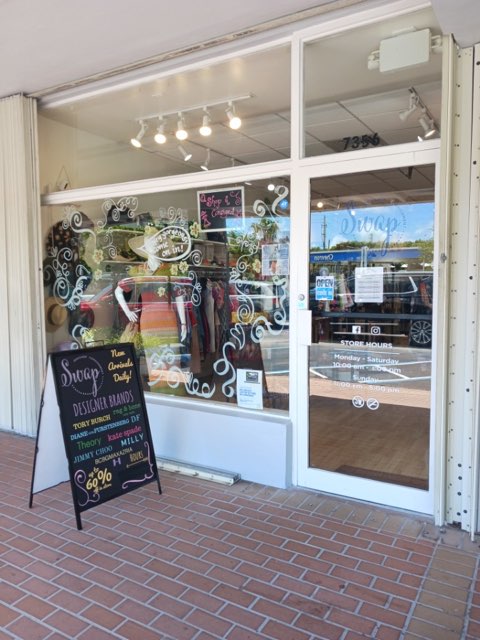 Navigating the World of Designer Fashion: Holiday Thrifting and Consignment Shopping Guide
The holiday season brings with it a sense of excitement, celebration, and the joy of gift-giving. For fashion enthusiasts with a taste for luxury, the allure of designer clothes is undeniable. However, the hefty price tags can be a deterrent. Fear not, as consignment and thrift stores offer a gateway to the world of designer fashion without breaking the bank. In this comprehensive guide, we'll explore the art of holiday shopping for women's designer clothes at consignment and thrift stores, featuring iconic brands like Louis Vuitton and Chanel.
1. Strategic Planning and Research:
Before embarking on your designer treasure hunt, conduct thorough research. Identify renowned consignment boutiques in your area that specialize in high-end and designer items, including those coveted Louis Vuitton handbags or classic Chanel pieces. Reviews, recommendations, and an understanding of store policies will pave the way for a successful and enjoyable shopping experience.
2. Explore Exclusive Consignment Boutiques:
During the holiday season, exclusive consignment boutiques often curate special collections featuring designer pieces, making them the ideal destination for holiday shopping. Look for boutiques known for their curation of luxury brands, where you might uncover a timeless Louis Vuitton accessory or a chic Chanel dress.
3. Capitalize on Seasonal Sales:
Many consignment and thrift stores offer seasonal sales, and the holiday season is prime time for discounts on designer clothing. Keep a keen eye on your favorite consignment stores' social media pages, newsletters, and websites to stay informed about upcoming promotions and score even better deals on Louis Vuitton, Chanel, and other designer finds.
4. Curate a Designer Wishlist:
Take a wishlist approach to your holiday shopping by curating a list of specific designer pieces you're on the lookout for. Whether it's a Louis Vuitton wallet or a Chanel blazer, having a targeted approach increases the likelihood of finding that dream item amidst the racks of designer treasures.
5. Authenticate Designer Finds:
When dealing with luxury brands like Louis Vuitton and Chanel, ensuring the authenticity of your purchase is paramount. Reputable consignment stores often have stringent authentication processes, but it's wise to educate yourself on the distinct features of genuine designer items. Pay attention to details such as labels, stitching, and branding consistency to avoid falling prey to counterfeit items.
6. Upscale Thrifting:
While consignment boutiques are known for curated luxury, thrift stores in affluent neighborhoods can also yield impressive finds. These stores often receive donations of high-end clothing, presenting the opportunity to discover Louis Vuitton and Chanel pieces at a fraction of their original cost.
7. Revel in the Thrill of the Hunt:
Shopping for designer clothes at consignment and thrift stores is an adventure in itself. Embrace the thrill of discovery as you explore racks and shelves, keeping an open mind for unexpected finds, be it a vintage Louis Vuitton bag or a classic Chanel jacket.
8. Exercise Time and Patience:
Thrifting for designer clothes requires time and patience. Unlike traditional retail, consignment and thrift stores may be a bit more chaotic. Dedicate ample time to browse through racks, inspect potential finds, and exercise patience to unearth those coveted Louis Vuitton and Chanel pieces.
9. Attend Designer-themed Events:
Many consignment and thrift stores host special holiday-themed events or sales that showcase exclusive designer collections. Attend these events for the opportunity to access Louis Vuitton and Chanel items with additional discounts, complimentary gift-wrapping, and a festive atmosphere.
10. Mix and Match with Contemporary Pieces:
Don't shy away from mixing your newfound designer treasures with contemporary pieces. Pair a Louis Vuitton accessory with modern attire or blend a vintage Chanel dress with trendy denim. This allows you to infuse luxury into your holiday wardrobe while expressing your personal style.
11. Familiarize Yourself with Return Policies:
Before making a purchase, familiarize yourself with the store's return policies. While consignment and thrift stores may not offer the same return policies as traditional retailers, understanding the terms is crucial. Some stores may have a no-return policy, while others may offer store credit or exchanges.
12. Share the Joy of Designer Finds:
Consignment and thrift store finds often come with unique stories. Share your discoveries on social media or with friends and family to spread the joy of sustainable and budget-friendly fashion. Inspire others to explore the world of consignment and thrift shopping during the holidays, especially when it involves scoring Louis Vuitton, Chanel, and similar designer treasures.
In conclusion, holiday shopping for women's designer clothes at consignment and thrift stores is an exhilarating journey. With strategic planning, a curated wishlist, and a dash of patience, you can uncover Louis Vuitton, Chanel, and other designer gems that add a touch of luxury to your festive celebrations without compromising on style or breaking the bank. Embrace the thrill of the hunt, and let the world of consignment and thrift shopping elevate your holiday fashion game.
Consignment and thrift stores offer a treasure trove of unique finds, from vintage clothing to contemporary accessories. When navigating these stores, it's essential to decode the terminology used to describe the condition of the products. In this guide, we'll delve into terms such as NWT (New With Tags), NWOT (New Without Tags), NWB (New With Box), and NWOB (New Without Box). By understanding these terms, you can make informed choices and find items that align with your preferences and budget.